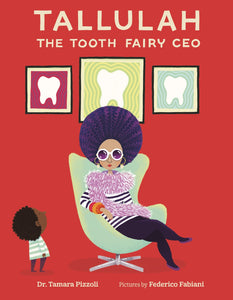 Hilarious and smart, Tallulah the Tooth Fairy CEO is a modern take on the classic tooth fairy story by Tamara Pizzoli with illustrations by Federico Fabiani that is perfect for powerful little leaders ready to take on the world―one tooth at a time.
Meet Tallulah. She's the Tooth Fairy CEO. Tallulah knows practically everything about being a tooth fairy. How to collect teeth. Dispense money. Train other fairies. And it's all in the Teeth Titans Incorporated Employee Manual.
But when something happens that's not covered in the manual, what's a fairy to do?
As an Amazon Affiliate, I may receive a small commission from Amazon - at no additional cost to you.